Thanks to all who have made the Backyard Bible Camp a great success.
Jesus commanded His disciples to not hinder the little children from coming unto Him that He might take Him into His arms to bless them. Hope of Christ Church hosted a 5 day Backyard Bible Camp in the Aquia Harbour neighborhood.  Approximately 25 young children learned about Christ and the love He has for the lost.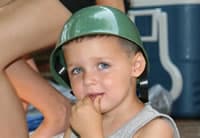 This year's theme was God's Rules of Engagement.  The children learned about the Ten Commandments.  This was not merely a memorization of the Ten Commandments nor was it simply about good behavior.  As Christ noted in the Sermon on the Mount, God's Law demands our perfection and our perfection demands a Savior who is perfect for us.  The children were grounded in understanding that God sent Christ into the world to be our righteousness and, only after being grounded in the Gospel, were they able to understand the nature of the Law and how to apply it to our lives.  In short, they learned, at an age-appropriate level, to obey because they love their heavenly Father.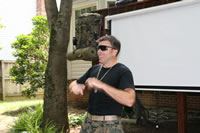 We pray that this event was a blessing for all the children that attended.  It was a tremendous blessing to the Hope of Christ parents and teens who got to see, firsthand, the excitement of young eyes who learn about Christ and His Word.  We have faith that the God who creates and overrules all will use this in the lives of these children in the years ahead and pray that the lessons learned will germinate as little seeds, which grow into passionate disciples of Christ to the glory of God!