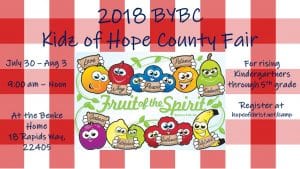 When: July 30 – August 3rd, 2018
Time: 9 am-12 pm Daily
Location: 18 Rapids Way, Fredericksburg, VA 22405
Ages: Rising Kindergärtners through 5th Grade
Cost: FREE!
All children from the surrounding community are invited to share in learning activities from crafts to stories to games that will teach children about Christ and how He came to fulfill to save men, women, and children from their sins.
Jesus commanded His disciples to not hinder the little children from coming unto Him that He might take Him into His arms to bless them.  Hope of Christ Church desires to bless the children of our community and share our love for them.  We will have a full staff of adults and teenagers to supervise your children from 9 am to 12 pm daily.  There will be a gathering on Friday evening to celebrate the end of the camp and to see what the kids have learned throughout the week.
Please register today to reserve a spot for your child(ren).  Register by selecting a ticket per child.  If you have 3 children, then select 3 tickets.
[ESPRESSO_TICKET_SELECTOR event_id=3512]
Please call (540) 446-2535 with any questions or concerns.