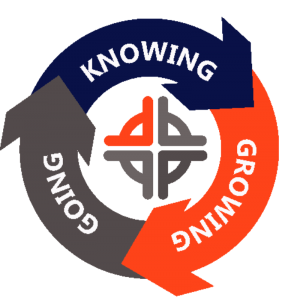 Growing in Grace
I appeal to you therefore, brothers, by the mercies of God, to present your bodies as a living sacrifice, holy and acceptable to God, which is your spiritual worship. Do not be conformed to this world, but be transformed by the renewal of your mind, that by testing you may discern what is the will of God, what is good and acceptable and perfect. – Romans 12:1–2
Simply put, Christ loves us too much to leave us like He found us when we put our trust in Him.  The work of Christ is growth in grace.  By the power of His Spirit, we put to death the sin that remains and we grow in spiritual maturity in love for Christ and one another.  It occurs individually, in the family and in the larger Body of Christ but it is all through the strength that Christ supplies.
Individual
…from childhood you have been acquainted with the sacred writings, which are able to make you wise for salvation through faith in Christ Jesus. – 2 Tim 3:15
Christ builds us up as we daily approach Him in prayer, reading, and meditating on the Word.  We pray because we must learn to depend upon Him.  We read and contemplate the Word daily as it helps us put our daily lives into perspective.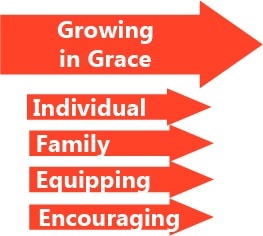 Family
And these words that I command you today shall be on your heart. You shall teach them diligently to your children, and shall talk of them when you sit in your house, and when you walk by the way, and when you lie down, and when you rise. – Deut 6:6–7
Our relationship with Christ is a family affair.  It flows out into all areas of life but especially to those most close to us.  Husband and wife are a mutual help to one another and never more so in their encouragement and prayer with one another and study of God's Word together.  Parents desire that their children would learn the things of God and so they train them up in the Word.  They teach their children about who God is and their need of Christ so that children will one day understand their need of the Son.
Equipping One Another
We are to grow up in every way into him who is the head, into Christ, from whom the whole body, joined and held together by every joint with which it is equipped, when each part is working properly, makes the body grow so that it builds itself up in love. – Eph 4:15–16
In Christ, the fullness of God was pleased to dwell but each of us is given a measure of Christ's Spirit.  In short, we need each other to grow because Christ has gifted each of us with something the other needs.  We are equipped by one another as we gather together regularly and learn the Word of God and dig deeper into its truths.  Christ Himself is ruling and reigning and uses each of us to equip us for life in His Kingdom.
Encouraging One Another
Do not neglect to meet together, as is the habit of some, but encouraging one another, and all the more as you see the Day drawing near.  – Heb 10:25
Simply put, we cannot grow apart from others and Scripture warns that we will not endure unless we are encouraged by one another.  We need each other to be praying for our mutual needs and encouraging each other to press on in the race set before us.  The Church must be the one place where it is safe to express our darkest sins and fears and to receive counsel, instruction, and encouragement.